Should You Set-Up Facebook Instant Articles?
Known "in the biz" as FIA – Facebook Instant Articles have incredible potential, but is it worth the trouble?
If you share your posts and articles on Facebook, mobile users will have a much better experience. So why not! – Harry Hawk
I think it it's a huge opportunity
1.2 Billion Month Active Users
Rapidly loading pages for mobile users
Monetization through sponsored ads from Facebook's Audience Network
The ability to stitch in your own ads (and keep all the revenue)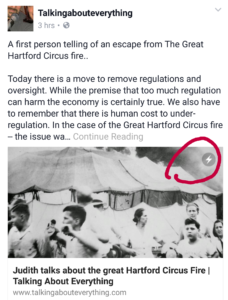 Quality Mobile Visits?
Many sites have a ton of mobile traffic but they are not giving those mobile visitors a quality experience – harry hawk

I've reviewed the data for a lot of web sites. Most get large amounts of mobile traffic and that traffic rarely sticks around  – harry hawk
I reviewed Google Analytics data for two business sites. One of them is an eCommerce site operated by Google; it's not a big site but it sold about 2.5 million dollars last year. The other site is a business focused on communicating with other businesses.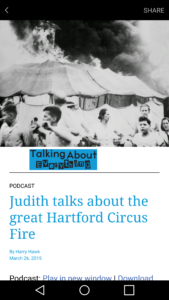 Here are some mobile stats
For the B2B site, 21.59% of the sessions were mobile, 27.66% of the users came from mobile, but only 15.96% of the page views came from mobile users. For Google's site 35.37% of the sessions were mobile, 38.08% of the users came from mobile, and 24.83% of the page views came form mobile users.
% Of Mobile
Sessions
Users
Page Views
B2B Site
21.59%
27.66%
15.96%
Google Store
35.47%
38.08%
24.83%
What does that all mean?
"Mobile users don't stay very long and when they do stay they look at far less pages than other users" – harry hawk
The biggest take-away here is that the results are not symmetrical. In a perfect world the mobile users and desktop/laptop users would have similar usage patterns. Desktop computers are still faster, easier to use and often have much faster connections, so it makes sense that it's easier for those users to spend more time on the site, and to view more pages.
Mobile may never change
Mobile users who are increasingly abundant, may never have the usage patterns of their desk bound peers. Mobile is great for checking an email and even sending a quick reply like, "See you tonight xoxoxo." But it's hardly medium for writing a post like this, completing your tax returns, or any number of other tasks.
Somethings are just harder on a mobile device. Not everything can be done with a left or right swipe – harry hawk
What can change?
We can't change the phones, and we can't change the users – We can change the way the pages load (and look) – harry hawk
We can make mobile pages look better, load faster and unify features and functions across all platforms. For example most of the FIA pages I have created load in about 2 seconds. They show roughly the same content as the desktop version; that is a requirement from Facebook. Comments made on a FIA vers. of a page, should propagate back to the desktop page to "unify" the experience.
FIA allows your mobile visitors to have a better experience without killing the Desktop experience that is already working – harry hawk
One Post, Two Pages? Huh?
Facebook Instant Articles (FIA) and Google's Amplified Mobile Pages (AMP) create copies of your static web pages and then serve them to mobile users. In this post, i'm going to focus on Facebook as I think their solution is really amazing. Let's see how it works.
Behind the scenes
What does it take to set up FIA?
A business page or Fan Page on Facebook (e.g. https://www.facebook.com/talkingabouteverythingpodcast/)
A blog or other site with static content (e.g., like this podcast)
There is a back-end setup where you have to create an "APP" account on Facebook (it's free, it's easy, you are NOT actually creating an App)
You are not creating an APP but you need the "ID" that comes with one
You link your site (e.g., blog) to your Facebook page via the page's APP ID
You convert your blogs/articles to the FIA format

You an do this with a WordPress or Drupal plugin
You can do this with custom programming (via their API)

You submit your blog posts to Facebook (you need at least 5)

Once you are approved, you are ready to go

But wait there is a bit more work to do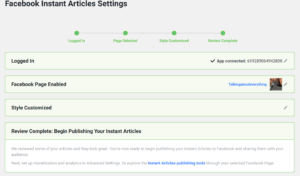 After set-up FIA
Every time you create a new post or article, the system submits your new page to Facebook.
I'm using a WordPress plugin and that means my posts are automatically submitted via an RSS feed.
I'm using Instant Articles for WP – authored by Facebook, Automatiic & Dekode. It hasn't been updated in a few months and hasn't been tested with the latest WP rev. | I am using it with 4.7.3 sans testing.
You will want to embed analytics & tracking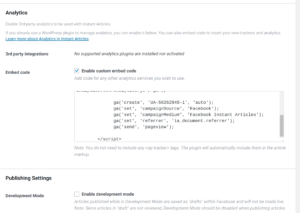 Set & Forget
"Set it and forget it" and just publish like you have always done it – harry hawk
Publish a new article
Share that article (or post) on Facebook
Where is the magic? 
When you see it work, it really will feel like magic – harry hawk
I publish my posts, and Facebook imports them and (that's it).
When I share a post on Facebook (it's magic):
When a mobile users clicks the link they get an FIA page, served from Facebook, that loads in about 2-3 seconds.
When a desk bound person clicks the link they get sent –> to your actual blog
Sync'd and Linked
Because Facebook knows my blog, and has the posts already imported (cached) it makes the connection between a shared link and a FIA page. Mobile users typically see a small thunderbolt within the image; this tells them that the link is FIA "enabled."
Facebook takes away the hard part of creating mobile friendly posts and share them on Facebook – harry hawk
But I guessing most people are not yet looking for this type of thing. All they know is that the page loads super face and none of the content is missing (because if is, Facebook will not approve you for this program).
Sync'd
Yes, the page is sync'd so that every time you edit your post, the FIA page is also updated. As I mentioned, the comments made within the FIA page are supposed to propagate back to the main page. You can even embed your Google Analytics code so that the page is fully tracked.
Sponsored blog posts!
The best part? Your FIA pages can get sponsored ads. There is a sign up required (and you have to give them some tax ID info so you can get paid).
BOOM! just as older bloggers did with Google AdSense you can now run "sponsored" ads on your FIA pages – harry hawk
Your own ads too
You can put in your own ads. You can charge money for these ads. Facebook serves the pages (fast) but you get to keep 100% of the ad money. Of course to do this, you really need ad serving infrastructure; but for larger companies and cooperatives this can literally impact the bottom line.
Ad UNITS 🙂 Are iFrames
If you are even some what technical you probably heard about embeded players, video and more into an iframe.
What is an iframe?
"An iframe (short for inline frame) is an HTML element that allows an external webpage to be embedded 
in an HTML document. Unlike traditional frames, which were used to create the structure of a webpage, 
iframes can be inserted anywhere within a webpage layout." Tech Terms
 iframe = External Web Page
Think about it. A fast loading mobile page, hosted by Facebook, connected to your Google Analytics account for tracking purposes and containing an iframe with an embedded "external" web page.
Everything in the iframe can be tracked and monitored because ads need to be tracked and monitored – harry hawk

Tracking and monitoring is also helpful for marketing and communications professionals – harry hawk
What can you put into an iframe?
A video player that is fully tracked (plays, skips, pauses, replays, etc.)
An audio player that gives similar stats (plays, pauses, etc.)
A web form or messaging unit like Unbounce's new Overlays – think of it more like a pop-in than a pop-up.

Any number of other call to actions (CTAs)
Sample content or product info

An ad 🙂 – your own, one you sold or one from a partner or co-brand
The iframe size is limited (300 x 250 or 300 x 50 pixels)
But these are mobile users, who have small screens. That is more than enough space to play a small animation, or a quick video, ask for feedback like a NPS (Net Promoter Score).
Technical Development
Unless you are a larger company that is already working to serve your own ads, it's is going to be hard to do this today, on your own with no technical skills. But you can easily embed a single set of HMTL and code that will appear in all of your FIA posts using the "Instant Articles for WP" plugin.
FIA OG Problems?
Having problems with your OG: Open Graph data showing up the "1st time" you post your URL into Facebook? Here is my "hack" to fix it.