I enjoy thinking about the future of Ad Tech… but it's more fun as a group sport.
Podcast: Play in new window | Download
Subscribe: Apple Podcasts | RSS
I was fortunate that AdStage's JD Prater agreed to join me on a journey into the future. As head of Growth Marketing for AdStage he keeps focused on every trend and every bit of breaking PPC news…
We talked about:
Digital Billboard ads that might target just a single person,
Why limited inventory insures it's in Facebook's interest be a great "match maker" for advertisers and users
How interactive voice based ads might work "Hey Google…,"
Speculate about Amazon's future, how well they play with other ad networks (and their billion dollar net income from advertising),
What it means if we all literally owned all the data that was captured (and enhanced) while tracking us,
My notion that the future of ad tech is more reward ads,
How Facebook Analytics allows attribution of Reactions (like, love, etc.) right into eCom sales funnels
How the lose of Net Neutrality might drive update of lightweight HTML like AMP & Facebook Instant Articles
and much much more!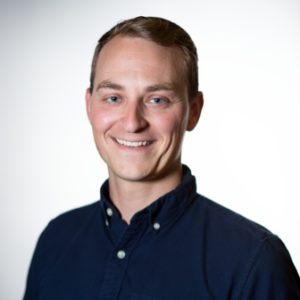 If you don't know JD, you probably should — even if you are not someone who is buying ads online —
"JD Prater is the Head of Customer Acquisition and Growth Marketing at AdStage. He's a performance marketer and digital media strategist with a passion for organizing data into actionable stories. His expertise is in crafting marketing strategies and campaigns that drive acquisition, retention, and engagement across the customer lifecycle.
AWARDS
– 2017 Top 25 Most Influential PPC Experts
– 2016 Landy Awards Finalist for Best Mobile Search Marketing Initiative — SEM
– 2016 Hero Conf – Most Innovative Session
CONFERENCE SPEAKER
– Hero Conf London 2017
– eMetrics Chicago 2017
– Hero Conf 2016 London
– Salt Lake City Digital Marketing Conference
– Hero Conf 2016 Philly
– Adworld Experience (Italy)
– PPC Hero Live Summit"
Links:
JD Prater (Twitter)
Personal Data.io (Paul Dehaye's company)
Is Advertising Dead? Wired 1994
The PPC Show (podcast)
Transcript
(00:00:01.0)
(00:00:28.5)
Harry Hawk:
Hello, this is Harry Hawk, and this is Talking About Everything, and today we're talking about the future of Ad Tech with JD Prater. JD, welcome to the show.
(00:00:39.7) JD Prater:
Hey, thanks, Harry, for having me on.
(00:00:41.1) Harry Hawk:
We're talking about Ad Tech. You're with AdStage. What makes you sort of interested in the future of Ad Tech?
(00:00:50.2) JD Prater:
I'll give you two-folds. For me, I've been in marketing now for quite a while. I've had a really fun time with a lot of the advertising side of marketing, more specifically. I don't know. It's one of those things where you can immediately get some kind of immediate result, so I launch something and I get a result, and that becomes really addictive, and that's something that I really like about advertising, whenever you're putting out different messages or different ads or you're testing…that, for me, is kind of my personality as a kind of a performance type of marketer, and for AdStage, AdStage is really trying to help people like me, and that's really trying to connect marketers to the data that they need to understand performance, to understand insights, and really draw them out in order to take action that they need.
(00:01:35.4)
We've got a reporting solution, we've got an automation solution, and then we also have our API solution, if you just want it shipped into your own database.
(00:01:45.3) Harry Hawk:
It really gets to something we were sharing in email about, you know, my own vision for the future of AdTech, at the time, in the '90s, thinking more about TV, but this sort of master station where a marketer, a buyer, or a planner, somebody can just sort of be there and start spinning up ads and seeing results and checking marketing databases, and that seems like a lot of what you just described.
(00:02:11.5) JD Prater:
It seems like you had the vision a while ago, but I mean I think we're slowly able to kind of piece all that together. I think that was one of the things, you know, as a younger company, at just over 5 and 1/2 years old, it took us a little bit to kind of figure out where the market was going, where it was headed to get the engineering resource that you need to build out this product. Now, I feel really good about where we're headed, going into 2018.
[Read more…] about The Future of Ad Tech with JD Prater