Podcast: Play in new window | Download
Subscribe: Apple Podcasts | RSS
Timothy French, a dancer, choreographer, and fashion merchandiser out of New York City whose drag persona is Stefani Victoria Spears.
Learn about Timothy and Stefani in Harry's and Austin's this installment of The Draggedy Project. Timothy discusses the origins of his performance persona in this conversation while also highlighting some of the struggles of being a gender performer as well as the possibilities that he sees within the world of drag and gender.

Drag Persona Origins
Like many other queens, Timothy's drag experience began as a Halloween costume at the request of friends. Living in Chicago at the time, Timothy was friends with many drag and gender performers in the community, and often did choreography work for their shows. They convinced him to try doing drag one year for Halloween, and Timothy thus created a costume based after one of his many idols, Lady Gaga. Timothy discusses his opportunity to meet Gaga, as well as the influence of drag and gender artistry in her own work, during our conversation.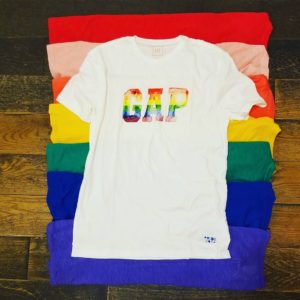 Transitions and Growth
Shortly after he started doing drag, Timothy moved from Chicago to New York City to pursue other professional goals. This starts a conversation about the differences between the art scenes within the two cities, and also leads to a discussion of some of the things that drag has been able to do for Timothy during this move. This reflects the wider discussion around the ultimate possibilities of drag and gender artistry—besides making a statement, Timothy feels that an integral part of gender artistry is self-improvement, and that his own drag work has helped him to become more comfortable in his own skin and allowed him to more fully and openly express himself.
Influences – External and Internal
The discussion then turns to specific events which have influenced the direction of Timothy's gender artistry, most notably the New York City Mermaid Parade and the upcoming Heritage of Pride Parade. This discussion allows for Timothy to explain some of his influences in designing his costumes, which include some unusual material from Timothy's professional life, such as store window designs which he studies as a part of his career in fashion merchandising. Timothy is currently employed by The Gap and credits their inclusive support for him and LGBTQ issues as an important turning point in his self acceptance. This leads to a discussion of the culmination of the different aspects of Timothy's life in his drag career. Gender artistry is a multidimensional art form, which combines several different forms of art in creating a cohesive whole. Timothy is well aware of this fact, and his multitudinous artistic backgrounds have helped further his drag career.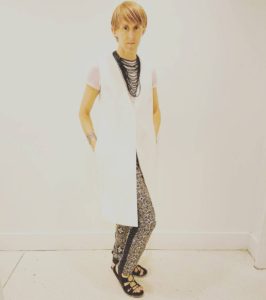 Looking to the Future
Our discussion ends with a conversation about the future of drag and the possibilities which gender artistry holds. Timothy includes some comments about the recent popularity of shows such as RuPaul's Drag Race, which act as a sort of double-edged sword for the drag and gender performance communities. On the one hand, shows such as Drag Race have popularized the world of gender performance and have introduced this incredible art form to thousands of people across the nation and the world. But on the other hand, this popularization has created a shift in the drag world, in which certain forms of gender performance are now seen as more legitimate in a mainstream view than others. This interesting contradiction is discussed by Timothy in light of his experience with auditioning for the show.
Shoes from Mermaid Parade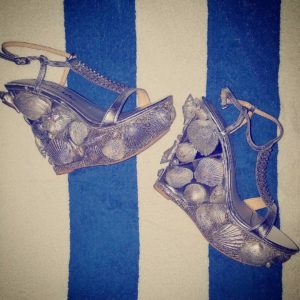 To keep up to date with everything that Timothy is working on, follow him on Facebook, Instagram, and Twitter at poshtwinkboi. Be sure to follow Harry and Austin on Twitter at @hhawk and @rainbowsquirtle, respectively. And be sure to follow Talking About Everything and The Draggedy Project on Stitcher Radio and iTunes! Keep checking back to draggedy.com for more episodes, pictures of gender performers, and links to more information about the artists we like. Thanks 🙂
More images of Timothy & Stefani
Podcast: Play in new window | Download
Subscribe: Apple Podcasts | RSS